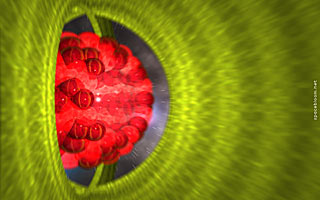 trifor
An extreme close-up of trifor's succulent fruit core. The holoberi is made up of cellubles arranged around a singular negative raspycore filled with zergon (used in treatments for sinausea and hariharion, an irritating excessive hair-growth syndrome, common among frequent space travellers).
Image taken on 30 March 2263 in Xteria.
All desktop pictures (wallpapers) are released under the Creative Commons licence. If you like and use spacebloom wallpapers consider making a small donation toward our hosting bill.