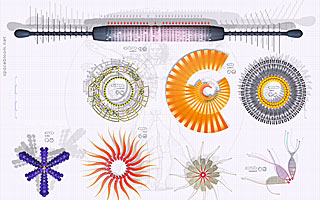 grid
A partial overview of spaceblooms taken from page 126-127 of Spacebloom : A Field Guide to Cosmic Xflora. From the top and left to right: maileus, wirbylet, aciluce, elpae, oofka, fosix, and hagopinis.
Overview created by Ixel Recise from images taken by Elise Spectromini. Fbloom, sbloom and seed information supplied by SpaceGarden Center. Background image: Human Figure in a Circle and Square, illustrating Vitruvius on Proportion (also known as Vitruvian Man) by Leonardo da Vinci,
All desktop pictures (wallpapers) are released under the Creative Commons licence. If you like and use spacebloom wallpapers consider making a small donation toward our hosting bill.